Welcome to Cyclefeed's Bicycle Photo Challenge brought to you by @mrprofessor and @robmolecule. The best cycling content, concentrated in one place, @cyclefeed.
---
Hello there, cyclists! The Cycle Feed Team wants to bring something different to reward the awesome cycling community, it is the Bicycle Photo Challenge.
We believe that a good friendship is what makes a community strong, especially when you are out there cycling on the vacuum of the pack. So, with that said, we would like to bring the cycling community and the CF Team closer together with a fun challenge! Not only will it reward, but it'll also encourage you to go out on your bicycle to take the best and most epic photographs. Plus, we'll get to interact and know you better. Isn't that perfect?
---
Cyclefeed's Bicycle Photo Challenge
This round ends on Wednesday 24th at 11:59 GMT
Have fun and keep the pedals spinning!
---
We are loving the interaction between the cyclists/photographers on the comments, this shows how strong our community is. Keep it up guys!
From green fields to the beach, asphalted roads and flying down mountains, or even on the snow. Along the way we may have a flat tire or a gigantic nail going through our tires. It doesn't matter our destination and the adversities; we shall get to the destination.
It was not easy picking the winning photo this week, but from all the beautiful photos we had to go with the beach and sunset. It reminded us of how great it is to cycle all day, meet friends, have fun and enjoy the magical hour with our two wheeled partner.
Since we can't reward all the participants we'd like to send love to all those who participated on this round: @tellurian, @jctdesign, @rimicane, @svemirac and @sina-adventure.
The Absolute Winner For This Week
Do the bicycles love sunsets?
Can't tell on behalf for all the bicycles, but mine do love sunsets, though I'm not taking it with me too often. My usual locations requires some car drive to the seaside, either go by foot if passing with the ferry to other side of a gulf to Curonian Spit.
This rare occasion was decision to go to Curonian Spit, but closer to the gates to port, which is longer distance to go by foot and very inconvenient to go by car 🙂
So well, after got some nice frames of sunset and port gates and whatever.. the last model became just my bicycle. And with pretty nice result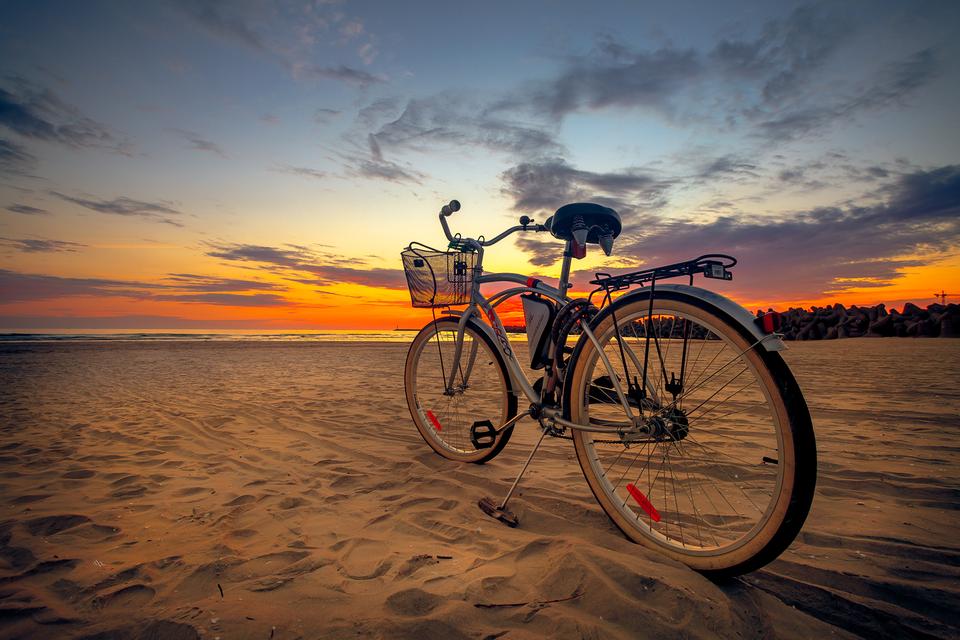 Click Image to Enlarge!
---
The Bicycle Photo Challenge
The idea is to keep it simple, all you have to do is to go out and enjoy the day on your bike, don't forget to bring a camera! You'll need it.
Then you'll have to amaze the Cycle Feed Team with a photograph, but not any photograph, the theme is BICYCLE. It doesn't need to be a master piece of photography, try to capture the moment and showcase what cycling is. Can be a photo of your bicycle, or the bicycle on some epic locations, or someone riding a bicycle. There's no need to be a fresh photograph, use your creativity and don't pick photos from the web, we'll check that.
How to Submit a Photo
Post your bicycle themed photo on the comments down below and add a small comment (one paragraph should be enough). Try to keep it sweet, talk about your bike or the moment.
If the photo has been featured in your blog as a post, you can include the link on the comments, it'll grant extra visibility. Keep in mind that you still need the upload the photo on the comments, separately.
Contest Rules
Only ONE picture per user;
Take a Bicycle Themed Photo and share on the comments with a description;
Upvote this post;
Resteem (Optional);
We'll select the best Bicycle Themed Photo and feature on a post next week;
Half of the Steem rewarded on this post will be paid out to the winning photo featured next week;
If the amount of Steem turns out to be A LOT, then we'll lock the prize in 2 Steem. Higher prizes will be given if the payout increases.
The Cycle Feed Team hope that you have fun while cycling! Don't forget to bring your camera along to share your epic bicycle themed photos.
---
Do you like what we do? Please consider giving us an upvote or even a resteem. This will help us pay out higher rewards to the community which encourage even more people to use #cyclefeed.
Follow and upvote @cyclefeed
Follow our curation trail on Steemauto or delegate Steem Power: Check out our tutorial!
Use the tag #cyclefeed in your posts: Check out the requirements!
With over 600 members already on the Steemit Travellers Discord, it is an excellent place to meet other travelers and chat about traveling! Now you are also presented with the Cycling sub-group, that has been created just for you, the Cyclist. The server is also the place where you can ask all your questions about CycleFeed.